7. Februar 2012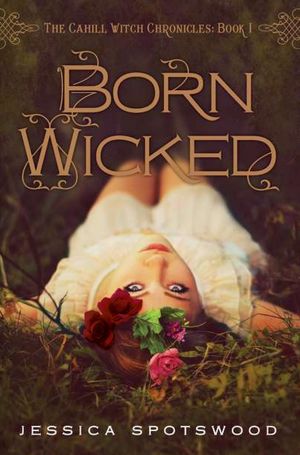 Blessed with a gift...
cursed
with a secret.
Everybody knows Cate Cahill and her sisters are eccentric. Too pretty, too reclusive, and far too educated for their own good. But the truth is even worse: they're witches. And if their secret is discovered by the priests of the Brotherhood, it would mean an asylum, a prison ship - or an early grave.
Before her mother died, Cate promised to protect her sisters. But with only six months left to choose between marriage and the Sisterhood, she might not be able to keep her word . . . especially after she finds her mother's diary, uncovering a secret that could spell her family's destruction. Desperate to find alternatives to their fate, Cate starts scouring banned books and questioning rebellious new friends, all while juggling tea parties, shocking marriage proposals, and a forbidden romance with the completely unsuitable Finn Belastra.
If what her mother wrote is true, the Cahill girls aren't safe. Not from the Brotherhood, the Sisterhood - not even from each other.
amazon
7. Februar 2012
Read "happily ever after" with this magical repackage that includes three enchanting, retold fairy tales.
In this value-priced bind-up of three beloved retellings, readers will journey to faraway fairy tale lands.
Before Midnight
revisits Cinderella's story in France,
Golden
puts a new spin on Rapunzel's romance, and
Wild Orchid
reimagines the Chinese tale of Mulan. With so much real-life drama in today's busy world,
Once
allows readers to escape into whimsical realms where every story has a happily ever after.
Dying of a broken heart is just the beginning.... Welcome to forever.
BRIE'S LIFE ENDS AT SIXTEEN: Her boyfriend tells her he doesn't love her, and the news breaks her heart—literally.
But now that she's D&G (dead and gone), Brie is about to discover that love is way more complicated than she ever imagined. Back in Half Moon Bay, her family has begun to unravel. Her best friend has been keeping a secret about Jacob, the boy she loved and lost—and the truth behind his shattering betrayal. And then there's Patrick, Brie's mysterious new guide and resident Lost Soul . . . who just might hold the key to her forever after.
With Patrick's help, Brie will have to pass through the five stages of grief before she's ready to move on. But how do you begin again, when your heart is still in pieces?